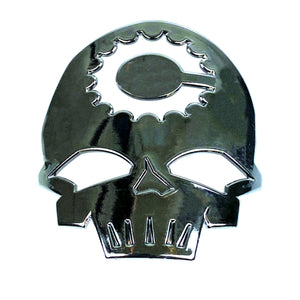 Need a replacement headbadge on your Canfield Bikes frame? Pre-bent to fit current Canfield Bikes headtubes. Black chrome finish.
• Authentic Skully headtube badge, just like on all Canfield Bikes frames
• Crafted from high-quality aluminum
• Features powerful and durable 3M adhesive backing; sticks to most surfaces
• Pre-bent to fit head tubes
• Approximately 2"x 2"