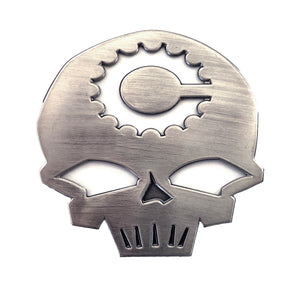 Want to floss out your truck, beer fridge or work bench? Need a replacement headbadge on your Canfield Bikes frame? We have flat and pre-curved metal headbadges available to replace your missing skull or stick anywhere.
• Authentic Skully headtube badge, just like on all Canfield Bikes frames
• Crafted from high-quality aluminum
• Features powerful and durable 3M adhesive backing; sticks to most surfaces
• Flat option for easy application to most surfaces.
• Curved option to contour to head tubes (bends easily by hand, no special tools required)
• Approximately 2"x2"