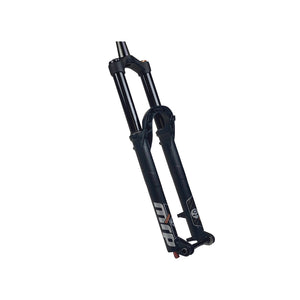 AN EXCLUSIVE OFFER FOR CANFIELD NIMBLE 9 AND TILT OWNERS
OFFER VALID THROUGH JULY 31, 2023
The MRP Ribbon Air is an enduro-capable trail fork with unprecedented adjustment features. Beefy stanchions, extra-plush small-bump compliance and a distinctive arch combine to make a fork that excels under a variety of trail conditions.
Specs:
• Air spring
• 150mm travel
• For 29-inch wheels
• 35mm stanchions
• 51mm offset
• Boost 15x110mm
• 180mm post mount
• Tapered steer tube
• 4.3lbs.
• Ramp Control™
• Custom Canfield decals
Features & Benefits:

• FullFill™ air-spring system with independently adjustable positive and negative air-chambers for greater tunability.
• New EssenTTial™ twin-tube, bladder-free damper utilizing a low-pressure IFP.
• Outcast™ arch design with forward-facing weight reliefs to mitigate mud build up.
• PSST™ pressure-relief valves that quickly and easily bleed off excess pressure in the lowers caused by elevation and temperature changes.

• ChocoLUXE internals featuring a proprietary material utilized in MRP's air-spring sealhead, damper plug, damper seal, damper IFP and damper support.
• Norglide Bushings from Saint Gobain are metal-reinforced, self-lubricating bushings with a layer of a low friction PTFE compound. They're exceptionally smooth and durable.