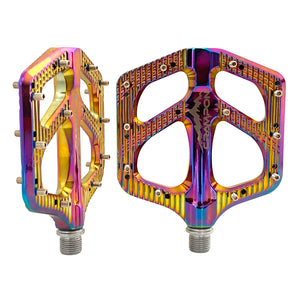 Our best-selling pedal, now available in a limited edition rainbow oil-slick finish.
The Crampon Mountain shares many of the features that make the Crampon Ultimate one of the best pedals on the market. Patented convex shape, ultra-thin 6-millimeter leading edges and double sided pins for easy removal, combined with a fresh look, an even larger 112-millimeter by 106-millimeter platform and virtually maintenance free internals that utilize a bushing at the axle side and stacked bearings at the end internally.
Limited Edition Oil Slick finish
398 grams
Thin 6mm front impact edges
106mm x 112mm wide platforms
Polished, anodized finish
Hybrid sealed bearings/DU bushing system
Chromoly axle
Replaceable dual sided pins, (allen key on both sides)
Patented convex shape
BREAK-IN PERIOD: It is normal for Canfield Crampon pedals to feel "stiff" when new or after a rebuild, espcially compared to the used, worn-out pedals they are replacing. Pedals will break in and spin more freely after a few rides.
SERVICE PARTS for Crampon Mountain Pedal